If you're looking for popular sheet music, we recommend Sheet Music Plus. They have the world's largest selection, guaranteed low prices, and great customer service.
My newest product is a book on CD of 28 original fingerpicking tunes I have created over the years. I am very excited about this and I know each and every tune will help guitar players build up their technique and become better players! On the disc you get all the PDF files plus the wav forms (audio) samples to hear each piece. Many of these tunes I also have on You Tube.
Click here for more info on Ray's Finger Picking Book on disc
Looking for a Guitar Teaching Method? Try Guitar Journey. See a video about the contents of the Disc here.
This website is designed for guitar fingerpickers, and provides a wide variety of right hand finger picking patterns. Making you a better player and inspiring you as a songwriter/composer.
Guitar Fingerpicking enthusiasts welcome!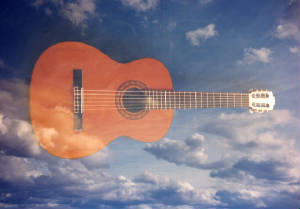 Learn the technique for making great music.
Welcome to a website created for guitarists who are into fingerpicking. There's a whole bunch of patterns to help you take your playing to new heights!